Brand Focused Food & Drink Concept
Canapes & Cocktails For 400
Phillips Gallery, Victoria
A Most Worthy Cause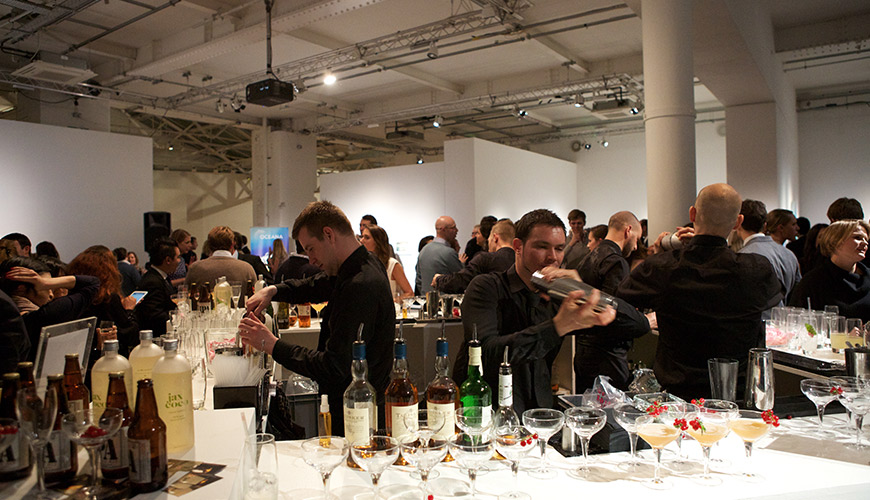 Coming up with options for unusual briefs is something that we do a lot of at Drinksfusion. But the launch of the Oceana charity's Junior Ocean Council posed an unusual challange…
Oceana is a major ocean conservation charity, protecting marine ecosystems and endangered species. A lot of their good work is focussed on fighting the crisis of overfishing, acidification and habitat destruction. For the food and drink our brief was to evoke the magnificence of the great oceans and seas of the world in all their splendour – but of course with no actual seafood. Perhaps we could stretch to some sea vegetation of which there is no shortage, but that would be about it.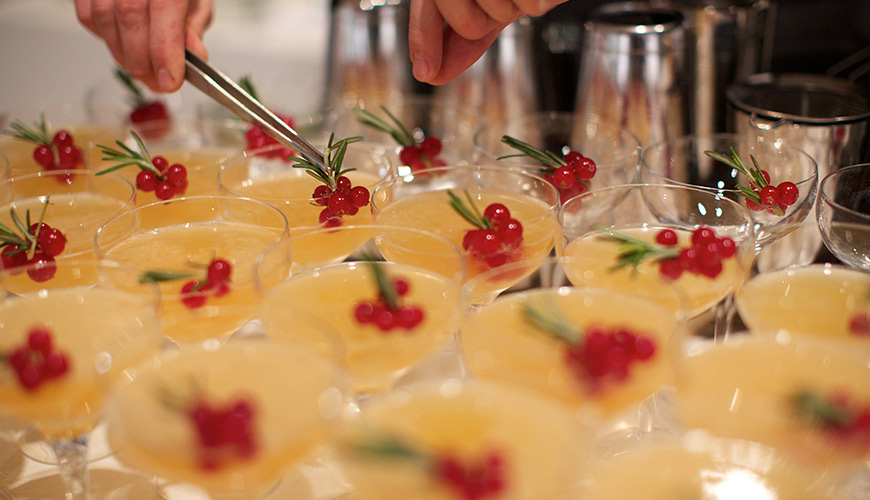 On the drinks side there we're a few angles we followed. Alcoholic goods have been traded on the high seas for as long as they have been sailed. Rum is synonymous with the ocean, navies and pirates, and in years gone by sherry, whisky, port and other aged wines and spirits would often turn up at their destination in better condition than they left. And to keep the crew from perishing from thirst, it was booze that they were supplied with – water would not keep on long journeys. And to introduce a little more of nature to the drinks we got a little creative with the presentation.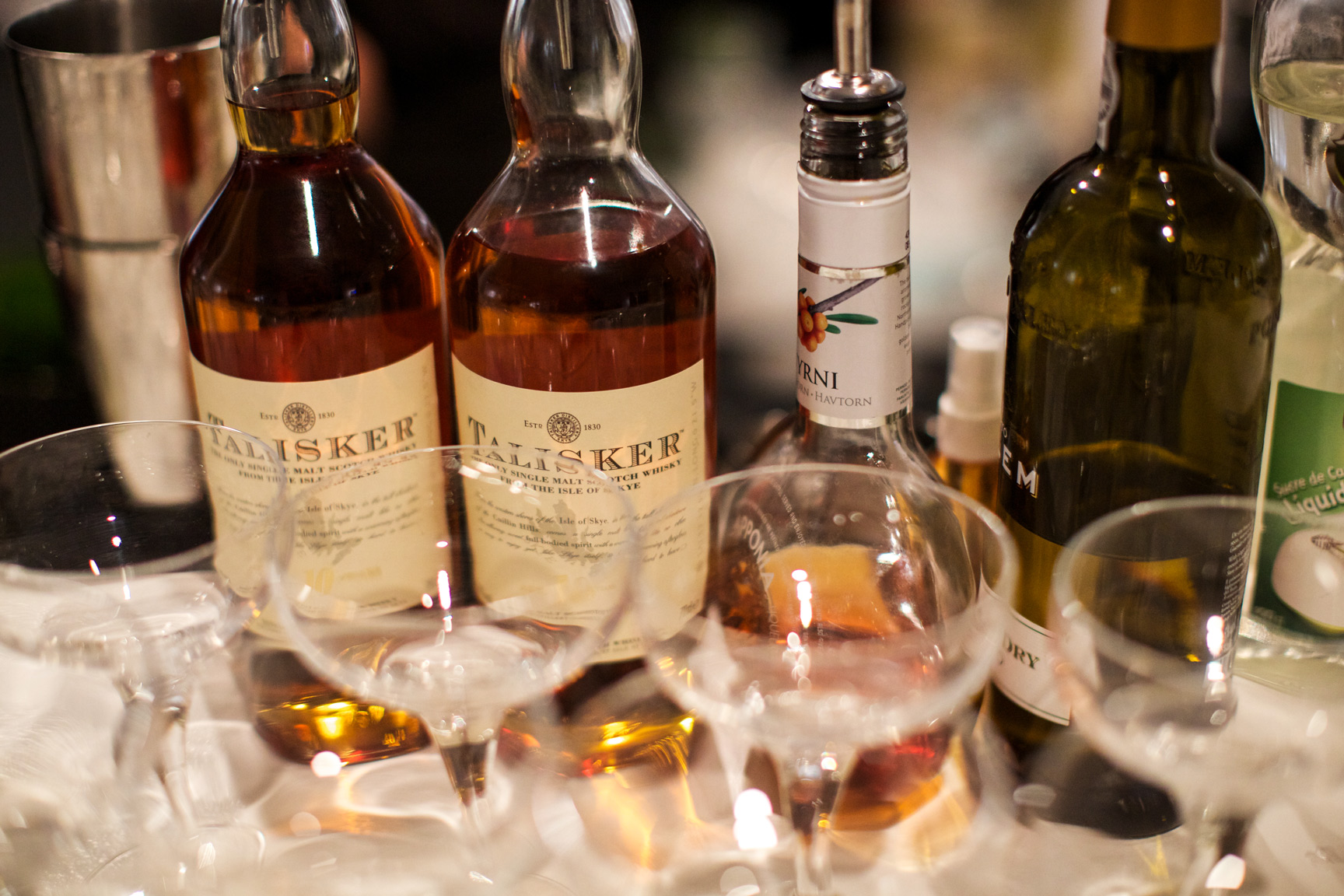 The Sea Coast Sour was a coastal blend of Talisker 10yr single malt and Lapponia sea-buckthorn liqueur shaken with a little fresh citrus and a touch of Calem white port. Garnished with a sprig of 'sea buckthorn' we created with rosemary and redcurrants.
Most of the work that went into the Ocean Pearl Punch was in creating the garnish. To design an edible pearl we made a liquid that contained edible silver glitter and through a process known as spherification that involves natural gels and minerals (and a very steady hand). And a mother of pearl effect to cradle the pearl was created with bright rose petals sprayed with edible silver. The drink itself combined dry gin and Japanese Koshu wine with fresh lime. Seasoned with Nordic coastal spices.
Later in the party we served up dessert cocktails – a delicious way to
send guests home with a smile on their faces. The Rum & Raisin Treacle was as gorgeous as it was simple. It was half Ron Zacapa 23yr old and half Pedro. Ximinez sherry stirred to perfect dilution with bitters. And a creamy twist on a classic with a Caramel & Sea Salt Alexander with cognac and grated nutmeg.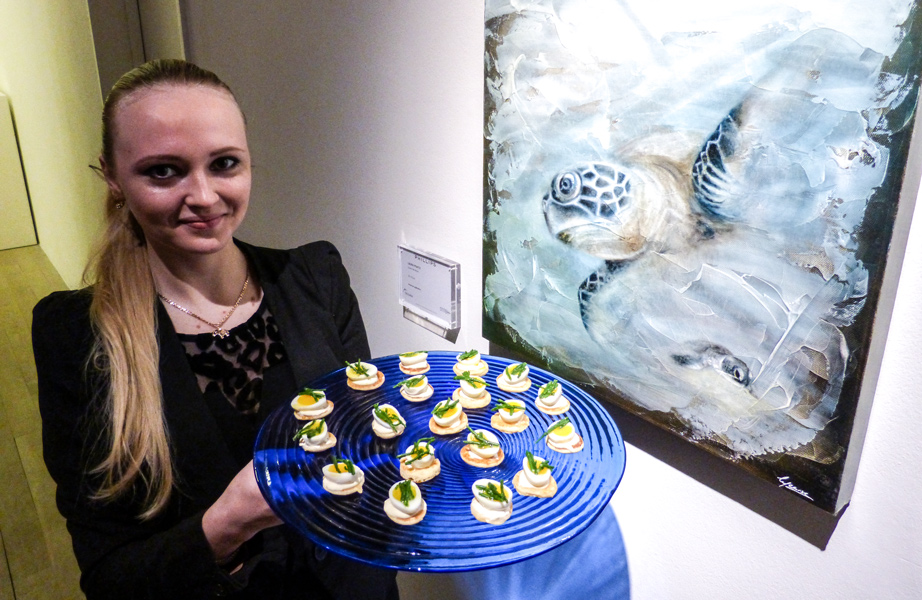 The 'seafood' canapés without actual seafood were created by our chef, Dan. These included Japanese seaweed and pumpkin seed salad with daikon dressing, served on miso soup spoon. Buckwheat blinis, samphire and quail egg. And to accompany the dessert cocktails we served up sea salted caramel and dark chocolate and hazelnut lollipops.
An Unusual Brief Brought To Life
Delicious Dessert Cocktails
Unique Food & Drink