A CONTEMPORARY SHOWCASE
MOLECULAR CHEMISTRY BAR
VICTORIAN APOTHECARY BAR
TAKEAWAY MEDICINE COCKTAILS
300 INDUSTRY GUESTS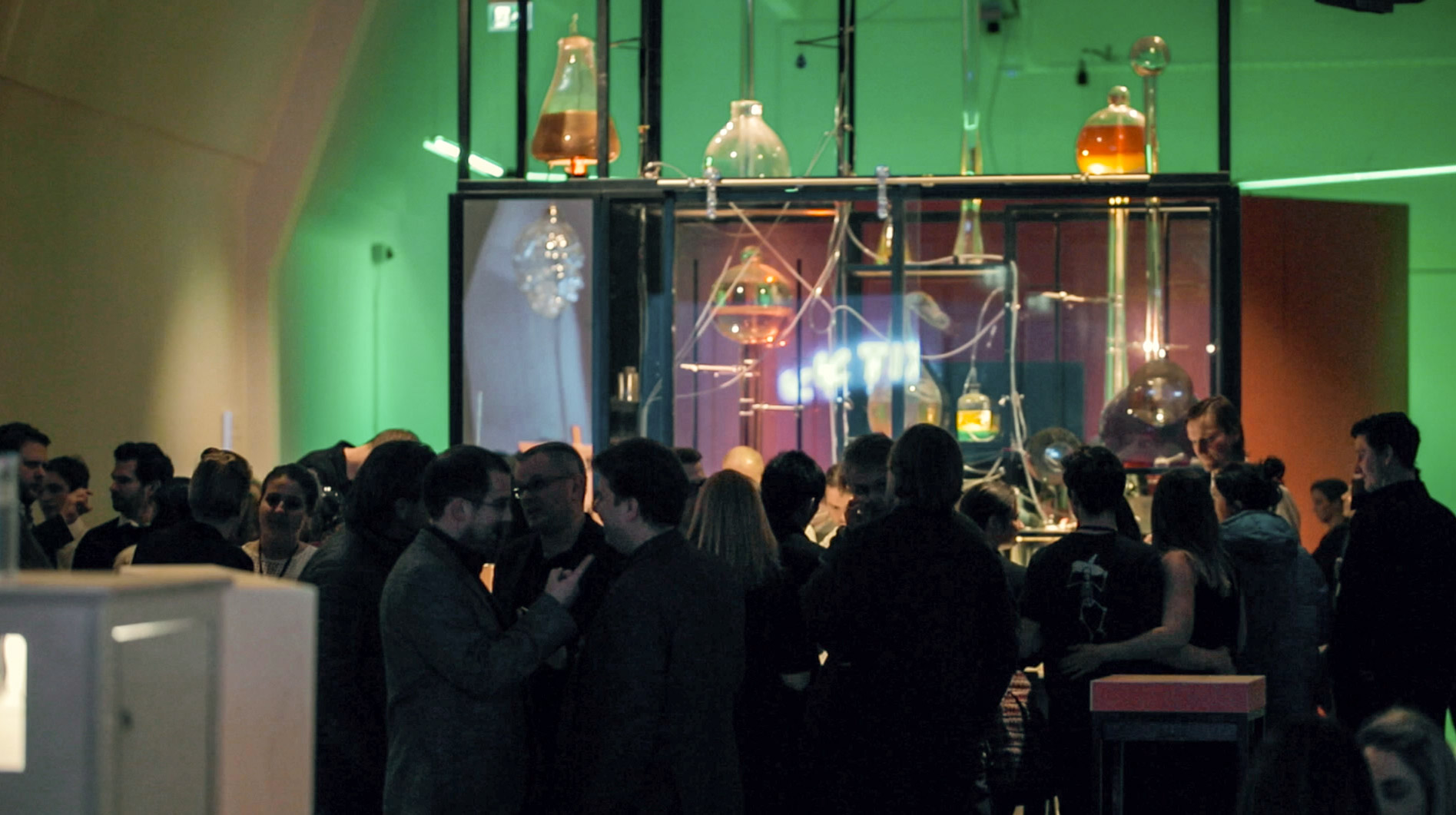 We were asked by the London Science Museum to help add some extra flair to their launch event of the Wonder Lab in January 2017.
So we created a contemporary drink offering served from two bars.
One Molecular bar with a modern chemistry lab influence and a Medicine Chest bar inspired by Victorian apothecary remedies.
Both serving drinks using fine hand-crafted organic products from the Swedish distillery Spirit of Hven.
We developed a range of three Molecular drinks, inspired by the difference in temperature, aroma and texture.
Frozen Rose-pearl Martini
Spirit of Hven Organic Vodka and Van Wees "rose without thorns" rare rose liqueur.
Stirred over dry ice with Lillet Rose aromatised wine and a hint of apricot eaux de vie,
served freezing cold straight up in a glass chilled to -45°C with liquid C02.
Garnished with rose petals frozen in liquid nitrogen and edible violet pearls,
Scented with flamed orange oils
Aroma Crusta
Spirit of Hven Organic Aqua Vitae, Gypsy Sour Cherry Palinka Served over ice sweetened with triple sec dry orange liqueur
Scented with a choice of aromatic foam
Lemon Verbena foam
or
Foam smoked with Calvados wood chips, infused with cinnamon and clementine oil
Served in conical flask with metal straws
Frostbite Punch
Spirit of Hven Navy Strength Gin and Van Wees Yuzu liqueur shaken with clarified lemon juice and Contratto Bianco vermouth
Seasoned with your choice of pipette-tinctures
Green or Yellow Chartreuse
Rose Hip bitters
Pine Bud tincture
Served over botanical infused ice cubes, in medical beakers
Taking inspiration from the Victorian phamracy we designed two potions, using Hven Organic Winter Spirt and the award winning Hven Organic Tyco's Star Single Malt Whisky.
Using old-fashioned tinctures and remedies such as wormwood, quinine, cassia bark, cinnamon and juniper.
The bar was dressed with genuine Victorian chemistry bottles, apothecary jars and an old medicine chest to reflect the theme.
Backfals Potion
A seasonal potion made with Spirit of Hven Organic Winter Spirit and Contratto Americano Rosso vermouth, charged with a splash of Tonic water infused with botanicals from the Mosel region.
Seasoned with tinctures of wormwood.
Spiced Tyco's Star Old-fashioned
Spirit of Hven Organic Single Malt whisky and Bold London Spirit stirred over ice to perfect dilution with a hint of spiced sugar, seasoned with a selection of bitter tinctures.
TAKEAWAY MEDICINE COCKTAIL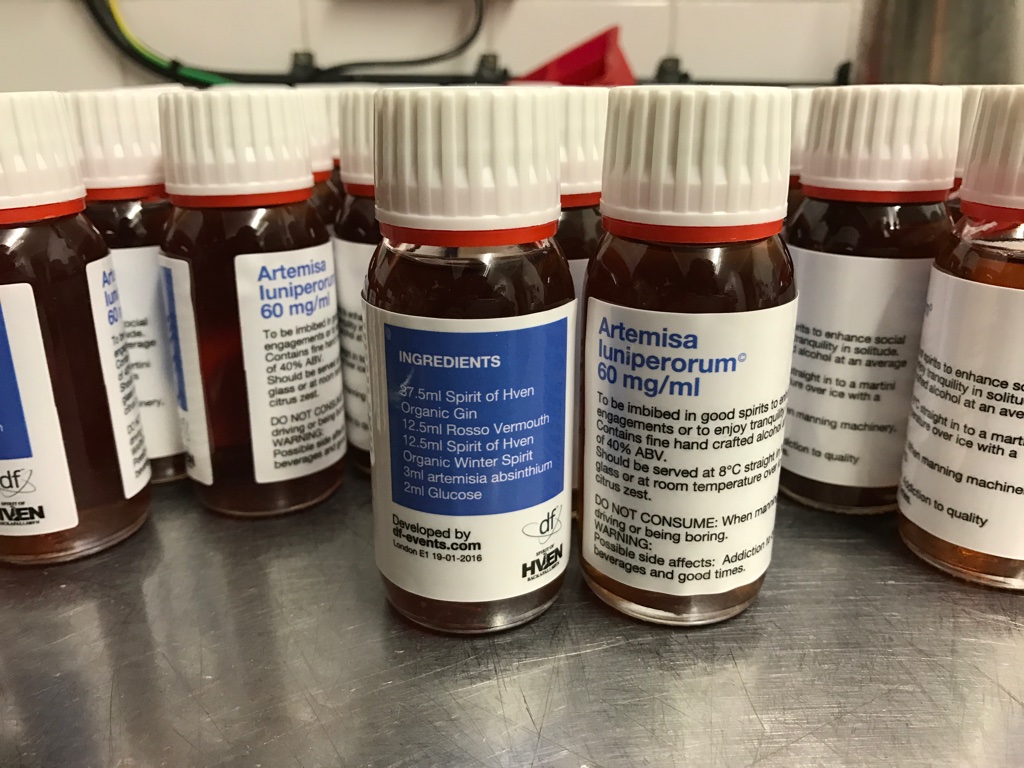 For all guests to take way in their goody bags we developed the recipe below as a mini-cocktail remedy, packaged in a medicine themed bottle with bespoke label, containing full instructions of how to serve and enjoy the drink and spec of it's ingredients
Perfect for a "dry January" remedy!
Artemisa Iuniperorum
INGREDIENTS
37.5ml Spirit of Hven Organic Gin
12.5ml Rosso Vermouth
12.5ml Spirit of Hven Organic Winter Spirit
3ml artemisia absinthium
2ml Glucose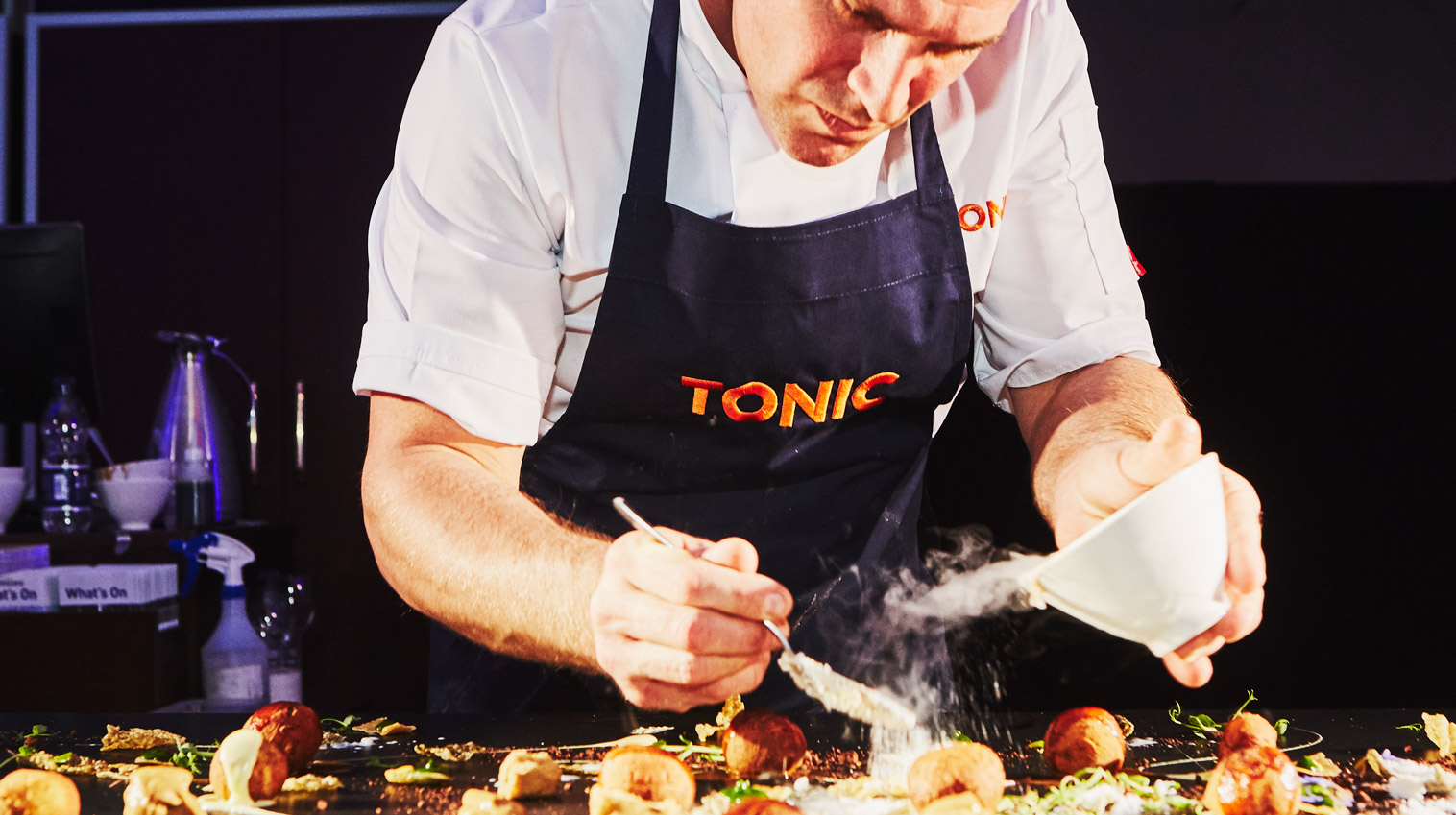 Our partner Tonic food's interactive live food stalls and science-based food concepts based around a thought-provoking and highly innovative science-inspired 'Theory of Food' menu provided non-stop drama and surprise throughout the night.
Toying with the physics of cooking and presentation, whilst also introducing new concepts and flavours, Tonic took catering to another level to showcase its new brand – 'levitating' petri dish of delicate pasta pillows filled with flavoured butters, gin bubbles and tonic cloud samphire, topped off with tomato water bubbles, thermal foraging for cheddar doughnuts with cep sugar or antigriddle cooking to produce sweet and savoury lollipops of green apple and tuna katsuobushi and Seville orange and salted duck skin.
THE END RESULT
300 wowed guests
5 Scientific and Innovative potions
An evening of spectacle and discovery